Voyage Dallas: Meet Diane Waghorne of Tech Safety Lines in the Dallas Metroplex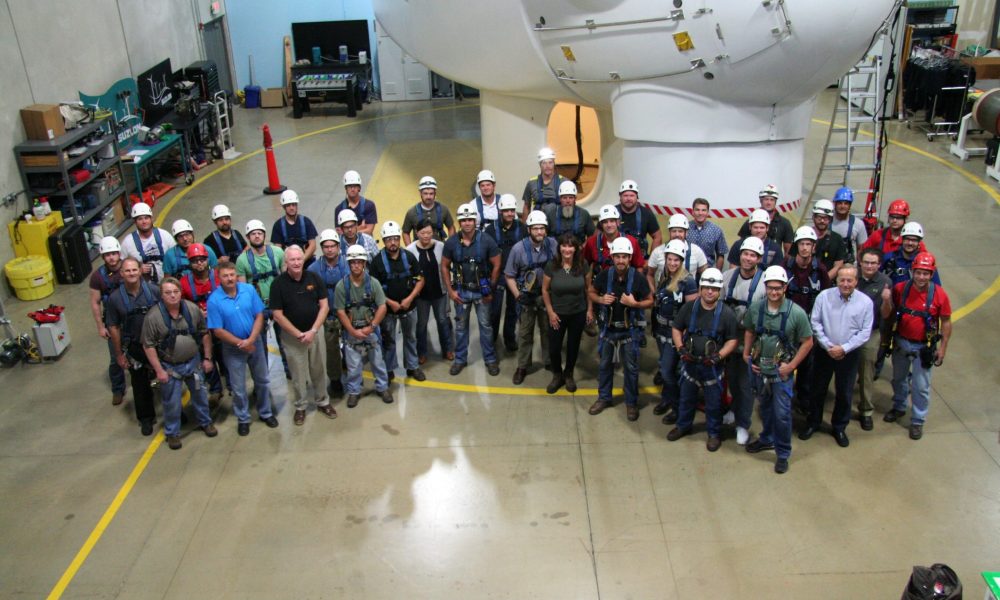 Today we'd like to introduce you to Diane Waghorne.
Diane, let's start with your story. We'd love to hear how you got started and how the journey has been so far.
9/11 changed my life. As I watched the twin towers crumble and realized that the people who had been trapped in the buildings truly had no way to be rescued, I started thinking that there should be a solution that could save lives at heights. I vowed that day to bring something positive out of that tragedy.
I thought about how many thousands of people go to work and risk their lives every day on elevated platforms, often hundreds of feet in the air on wind turbines, cell towers, aerial lifts and construction sites. All of them should have a rescue system and proper training to quickly, safely descend to the ground in an emergency.
I knew that someone had to create something to give people a safe way to get down to the ground in situations like this. And then, I decided that someone might as well be me.
So, in 2002, I went from being a stay-at-home mom to an entrepreneur and CEO of a company that specializes in providing rescue systems and training for people who work at height. That was 17 years and three patents ago, and now Tech Safety Lines' products are in 22 countries, including the United States, Canada, Europe and Africa. I sleep better at night knowing that thousands of workers are now safer because they wear our equipment every day.
Tech Safety Lines also provides customized training programs focused on ensuring the safety of individuals who work at height. In 2017 alone, we trained more than 900 workers to save the lives of themselves and their co-workers in the event of a fall. Many of them traveled from across the world to our new, state-of-the-art training facility, which was finished in 2017.
I'm proud that we've more than doubled TSL's revenue in the past three years, but I never focus on "revenue first." I feel that a successful business should be built first and foremost on passion. I have a passion for safety and creating a safer work environment for people who put their lives on the line. My top priorities are eliminating the risk of injury or death and educating employers about the importance of workplace safety.
I like to think that in the end, our global growth and success comes down to just one thing: Our commitment to client service. I take a personal, hands-on approach to client care, so our clients all know that I'm a firm believer in the value of third-party global testing and certifications, and they know that we only use the highest-quality components. I once rented a 600 ft. bridge in Austria to prove it, conducting testing for the European markets. That was a challenging, but memorable experience!
We're always bombarded by how great it is to pursue your passion, etc – but we've spoken with enough people to know that it's not always easy. Overall, would you say things have been easy for you?
To be honest, being a woman was my greatest professional challenge. But, I'd also say that it has been my greatest strength.
TSL is certified as a Women's Business Enterprise (WBE) & Women-Owned Small Business (WOSB). When I first launched this business 17 years ago, I was often the only female in the room, and I had great ideas but a lot to learn on the technical side. To establish credibility, I had to become an expert on industry safety and rescue standards. So, I did.
One of the best decisions I made early on was to bring in my business partner, Brent Wise, who is a 30-year veteran of the Dallas Fire Department. Through the years, he has provided incredible insight that has formed the design of our patented products, and he also leads our training operation.
Even with Brent's expertise on my side, I faced some barriers as a woman in a male-dominated industry. I hustled to build up my presence, traveling to shows and meetings and work sites, soaking up as much knowledge as I could while expanding my network. I earned people's trust, and was one of the first women named to a subcommittee for the industry's ANSI standards for Rescue Systems. And, I was the first woman invited to join the American Wind Energy Association's safety steering committee.
I've always worked hard to solidify my personal credibility, but I know that my business has to maintain a sterling reputation, too. I want every facet of our business to be beyond reproach. We have the products that we manufacture third-party certified ensuring that they meet applicable safety standards globally. The quality programs we've created have enabled TSL to become one of the first companies in North Texas to achieve ISO 9001:2015 certification. And, we hire awesome, incredibly skilled trainers who are all firefighters with the City of Dallas and members of the Urban Search and Rescue Team, as well as Texas Task Force 1 & 2.
All that diligence and effort has paid off, as TSL has become a preferred safety vendor globally for many companies.
We'd love to hear more about your business.
Tech Safety Lines, Inc. (TSL) offers rescue training, rescue design systems, fall protection equipment and consulting. Our company is dedicated to helping clients create a culture of safety and to protect their workers at height.
We also provide custom-tailored rescue training in realistic, simulated situations at our in-house training lab, as well as all over the United States, Canada, Europe, Jamaica, Thailand, Africa and beyond. Thousands of TSL's patented micro-rescue kits are in use and saving lives on towers, wind turbines, oil derricks, grain elevators, billboards, roofs, arenas and stadiums worldwide.
I measure my personal and professional success by workers trained and lives saved. All of us are truly devoted to our clients and want to ensure that they get home safely every day. You cannot imagine the buzz and excitement in our offices when we receive that magic phone call or email sharing with us that one of our kits has been successfully deployed and someone made it safely to the ground and can rejoin his or her own family. Clients trust us with their employees' lives, and I try to earn that trust by continuously improving TSL's customer service, training and safety equipment.
My greatest joy comes from grateful emails and letters we receive from TSL's students, thanking us for giving them the confidence and skills they need to take action in life-threatening situations. It's also immensely satisfying that this business contributes to a good quality of life for TSL employees, who share my passion for making working at height safer.
We are so devoted to our clients, and we are truly humbled and honored that we can make a difference in people's lives.
How do you think the industry will change over the next decade?
All companies with employees who work at height should have a managed fall protection plan, but the most overlooked part of such plans is the rescue component. More companies are taking on this challenge and are learning about different options, and the latest buzzword is "micro-rescue equipment."
Too often, if a company even offers rescue equipment to their employees, the rescue bag is so cumbersome that employees tend to leave it in the truck or at the base of the workplace – not high in the air where they are working for the day. With 300 feet of rope, older self-rescue kits weigh roughly 40 pounds, with thick ropes that burn relatively quickly. When there's a fall incident involving a fire, you don't want your life to depend on a rope that can melt in under a minute.
But now, the technology exists to produce much smaller, lighter ropes that are incredibly strong and extremely heat- and chemical-resistant. We've introduced brand new micro-rescue kits that weigh just seven pounds, with 300 feet of 6mm rope, and are certified to sell kits with up to 600 feet. We think that this lighter alternative encourages more people to carry the kit with them when working at height, which will undoubtedly save more lives. We're also now manufacturing fall arrest lanyards that meet the newest standard for ARC flash ratings, which opens up the utility industry to use our equipment.
These employees never know when the most extreme conditions are going to be upon them, and they need a plan and equipment that could save their lives. Just yesterday, I read a news report about a fire on a service truck in which a line worker died. And, I never forget the horrifying photos taken several years ago in the Netherlands, when two young men, ages 18 and 21, were working on a wind tower that caught fire. One jumped, and the other perished in the fire. If their company had had these new kits available to them, those young men would still be with us.
It was that tragedy that inspired me to spend a full year getting our kit certified globally, so we could share it with other parts of the world. We've set up sales agents for our products in Turkey, Pakistan, Europe, Latin America and Africa. We also plan to bring our rescue equipment to the offshore wind industry in the very near future.